Aam Papad is a traditional Indian snack that has been enjoyed by generations of Indians. It is made from raw mango and sugar, and can be eaten either in its original form or with some other ingredients added to it. Aam Papad has a unique sweet-sour taste, which makes it an ideal accompaniment to any meal. The popularity of this snack has led many brands to come up with their own version of aam papad, each boasting different flavors and textures. Here are the top 10 Aam Papads available in India today:
1) Haldirams Aam Papad: This popular brand offers a variety of flavors such as masala, chutney and mixed fruit. Their papads have the perfect balance between sweetness and sourness, making them an ideal snack for all occasions.
2) Bikanervala Mango Delight: This delicious offering from Bikanervala comes packed with the goodness of real ripe mangoes and offers an intense flavor that will surely tantalize your taste buds! 
3) Peppal Aam Papad: These aam papad are popular due to their pure ingredients as we use 100% natural ingredients.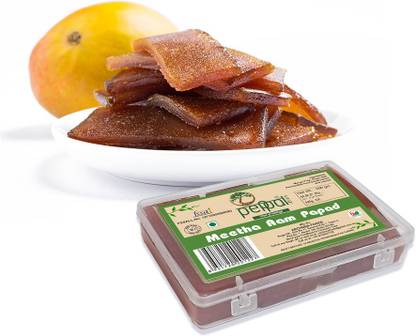 Trusted brand among people around the globe. Our motto is to make available natural products in the most appealing, mouth watering and yummy form.
Amazon: https://amzn.to/3Wqf371 and https://amzn.to/3WqAkNZ 
Flipkart: https://bit.ly/3BWVevR and https://bit.ly/3C0WspU 
Snapdeal: https://bit.ly/3jytdVq and https://bit.ly/3FXwxRg 
Get more offer visit this website: https://bit.ly/3vioxp0 
4) Chhappan Bhog Kesar Aam Papad: The Chhappan Bhog Kesar Aam Papad consists of real kesar (saffron), card.
5) Kanha Sweets & Snacks Aam Papad: The perfect blend of sweet and tangy flavors makes this popular brand of aam papads stand out from the rest. Rich with natural ingredients like jaggery, cardamom powder and saffron strands, these treats are sure to tantalize your taste buds with each bite! 
6) Ghasitarams Sweet & Spicy Aam Papad: If you're looking for something more savory than sweet when it comes to your snacks then Ghasitarams Sweet & Spicy Aam Papads may just be what you need! These yummy treats offer up an irresistible combination of sweetness and spice that will leave your mouth watering after every bite!  
7) Gulab Jamun Factory Original Masala Aambaapdi: For those who want their snacks on the spicier side then why not give Gulab Jamun Factory's Original Masala Aambaapdi a try? This delicious concoction combines chili powder along with other spices such as coriander seed powder and cumin seed powder into one tasty treat that packs quite the punch!  
8) Nutty Yogi Sundried Mango Leather: If you're looking for something on the healthier side when it comes to snacking then Nutty Yogi Sundried Mango Leather could be just what you need. Made from naturally ripened raw mangoes which have been sundried without any added preservatives or chemicals; this delightful snack offers up plenty of flavor while being light on calories too!   
9) Kesar Pedas Natural Diced Pineapple Fruit Rollups : Fans of exotic fruit flavors should definitely check out Kesar Peda.
10) Amul: One of India's most renowned dairy producers also offers high-quality Mango Fruit Leather under their product lineup which quickly became one of its most sought after items due to its unique blend of sweetness and tanginess that appeals equally both adults & kids alike!
In conclusion, the Aam Papad is a delicious and traditional Indian snack that has been around for centuries. It is made of mango pulp, sugar and spices and comes in many varieties such as sweet, spicy or sour. The most popular brands of Aam Papad are Bikano, Haldirams, Mango Bite and Real Fruity. All these brands offer great quality products with unique tastes. Thus it can be concluded that there are plenty of options when it comes to choosing your favourite Aam Papad in India. So go ahead and try some today!